Today we head up North to have a look at what our neighbours have to offer for the summer time. There are some really quirky options. From a 140 year old farmhouse, to a 2.5 meter high hut, there should be something in there to fit everyone's taste!
Cavan:
A 140-year-old Irish farmhouse nestled on a hill overlooking a famous pike fishing lake with the most beautiful views of the Irish countryside. A special sort of staycation for a big family this summer. Holding up to Eight guests and having Four Bedrooms, the whole family can make a fun trip to Cavan. If you're a fan of the outdoors, this spot can facilitate your needs also because there are some amazing and scenic areas to fish and camp close by.
Donegal:
Sleepy Hut is a 2.5m high insulated wooden hut nestled within a peaceful woodland setting
known as Sleepy Hollows. Surrounded by a haven of birdsong, river-walk only 300m from the front door, and just off the Wild Atlantic Way – a great base for exploring north-west County Donegal. This property would defiantly be recommended as a couple getaway, its petite and intimate yet modern and unique. With the vast amount of wild surrounding the location, its certainly one for the explorers.
Monaghan:
'Granny's Country Retreat' has been lovingly restored to a high standard for a relaxing stay.
Downstairs consists of a kitchenette, snug with a large L-shaped couch and bathroom with access to an outdoor patio. Upstairs in the loft is a double bed. There is an outdoor stove for when evening turns to night so you can stay nice and warm. A really nice modern twist on what would be quite old fashioned looking at first glance.
Armagh:
"The Meadow" is a quaint, rustic Shepherd's Hut located in a meadow at Ballymartrim Wood. The hut features a double bed, wood burning stove, gas hob, storage space, solar lighting and a patio. There is a BBQ and fire pit and a toilet close by. This hut is for the explorers again who do not mind the outdoors. Ballymartrim Wood is located on an active farm so there are opportunities to experience farming life and engage in new activities. A minimal but quirky experience, a different sort of staycation.
Down:
'Ruby's Gypsy Caravan' offers guests a unique experience of staying in a uniquely themed caravan which benefits from a range of modern-day luxuries. The quiet retreat countryside location is based outside of Hillsborough, Down. Close to the venues of Hillsborough Castle, Larchfield Estate and Montalto Estate, ideally suited for couples looking to create a memorable experience. Leave the madness of life behind and escape to silence.
Fermanagh:
Newly built, the 5 executive Lakeside Lodges are designed to keep up to the standard
already notorious with Mullans Bay. Each Lodge has uninterrupted lake views and are all positioned to provide maximum privacy. Two ensuite bedrooms, a large open plan living area with double patio doors leading to a covered decking area. A gorgeous and exciting new place to visit with your family.
Tyrone:
Here we have a hand built hi-end Glamping chalet which has its own cinema system for entertainment. Its fully self-contained with its own bathroom, kitchen and sleeping area. You will have access to your own BBQ area with picnic table to enjoy the space with your friends or family. The interior on this chalet is stunning, the compact chalet manages to pull of a big cabin like feel within a smaller area. A must to try in the Tyrone area!
Antrim:
The holiday pods sleep up to four people, It has one double bed and bunk beds. Located on
a hilltop site overlooking the Ocean and Glenarm Estate. Another set of these new wave of pods popping up around Ireland. A relaxing, calm and next generation sort of staycation for the summer, as I said before, highly recommend.
Derry:
The Barn is just outside Drumahoe village in an area known as Gortree. It is a 10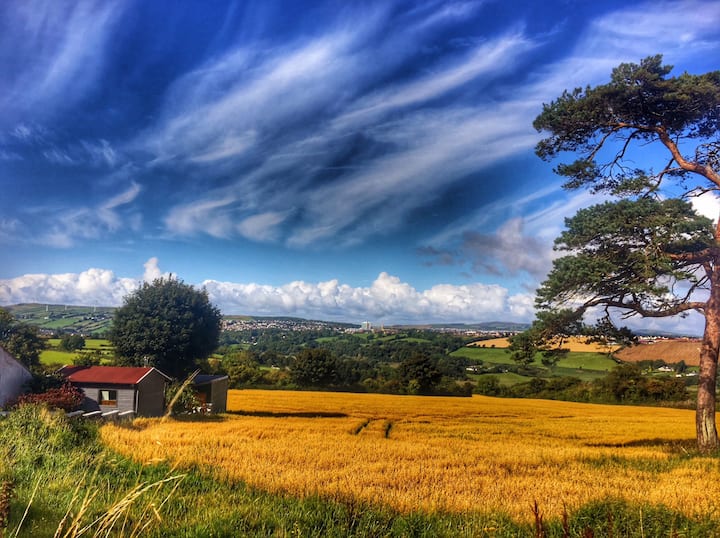 minute drive to the beautiful historic walled City, Derry. It is surrounded by picturesque countryside, with opportunities for country walks and coming back to a roaring log fire. The Barn is an all in one studio suitable for four guests. The bed space consists of one double and one set of bunk beds which have two full size single mattresses. The sleeping arrangements are all in one large space. It is decorated for country living with everything guests need for comfort and coziness.
Final Part 'Connaught Edition' Tomorrow!
#ITTNIreland #ITTNSwitchedon